The Adventures of Blue Hound
This is an assortment of memories, many pictorial, from the travels of Blue Hound, including:

Ireland, France, Spain, Portugal, The Canary Islands, Cape Verde Islands, Brazil and the Azores (x4), North Africa, Malta, Greece, Cuba, Dominica and more, together with a collection of resources useful for sailors

The sunset picture was taken from Blue Hound, anchored in the Canal de Itaparica in near Salvador in Brazil. Completely magical!
Blue Hound is a staysail schooner, built by Chantiers des Ardennes in Marseilles in 1981, in steel.
LOA 15.1m, with a beam of 4.60m and a draught of 2.84m. Sail area approximately 1200 square feet. Displacement 26 tons loaded.
Originally built as a training vessel for the French Navy, she has a long and chequered history.
2019 - 2022
The world has changed. We completed the Pacific crossing to Bundaberg, Australia via Pitcairn Island (almost), the Gambier and Austral Islands, Tahiti, Bora Bora and Tonga. Then we sailed down the Australian coast to Eden and across the Tasman Sea to Nelson, New Zealand and on to Picton and Covid lockdown. That led to 2 years in NZ (mainly in the Bay of Islands) and another crossing of the Tasman in 2022 from Opua to Bundaberg.

The two crossings of the Tasman were tough with 3 gales in the first and a storm in the second.


In August 2022 that was followed by 2,200 miles mostly of day sailing up through the Great Barrier Reef and 'Across the Top' which led us to Darwin in 7 weeks. We spent a month there cooking in a very uncomfortable climate before heading up to Saumlaki in Indonesia. It's all in the blog referenced below in the 2019 Trans Pacific paragraph.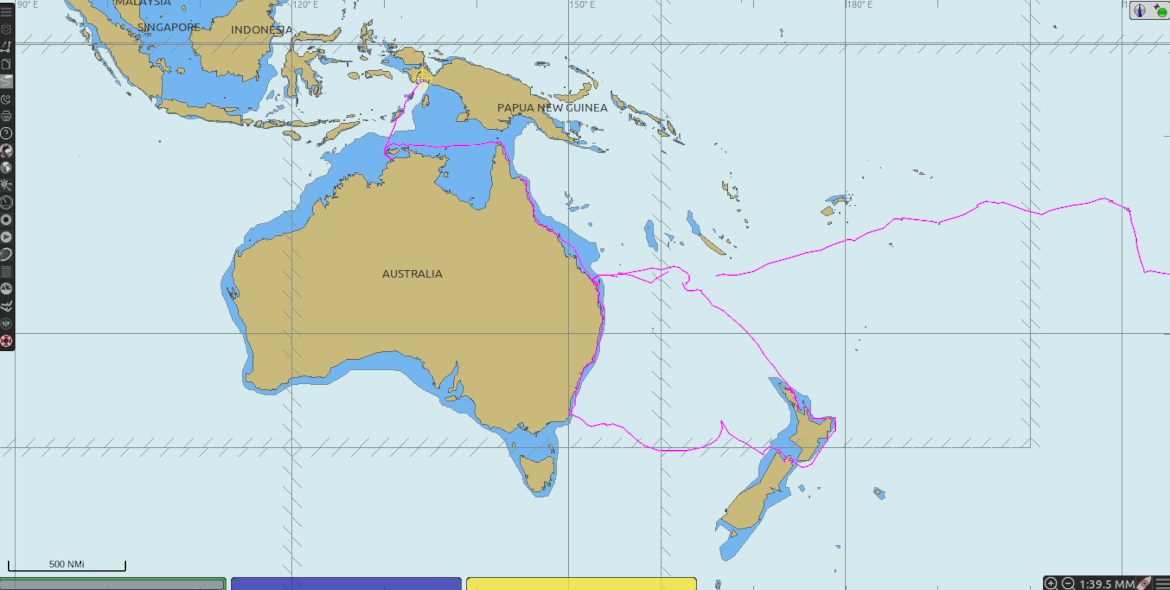 2019 - Trans Pacific
We plan to transit the Panama Canal in early February. If things go according to plan, there will be blog entries here at our blog (click); Also, our latest position should be shown below:
2017/18 - Atlantic & Caribbean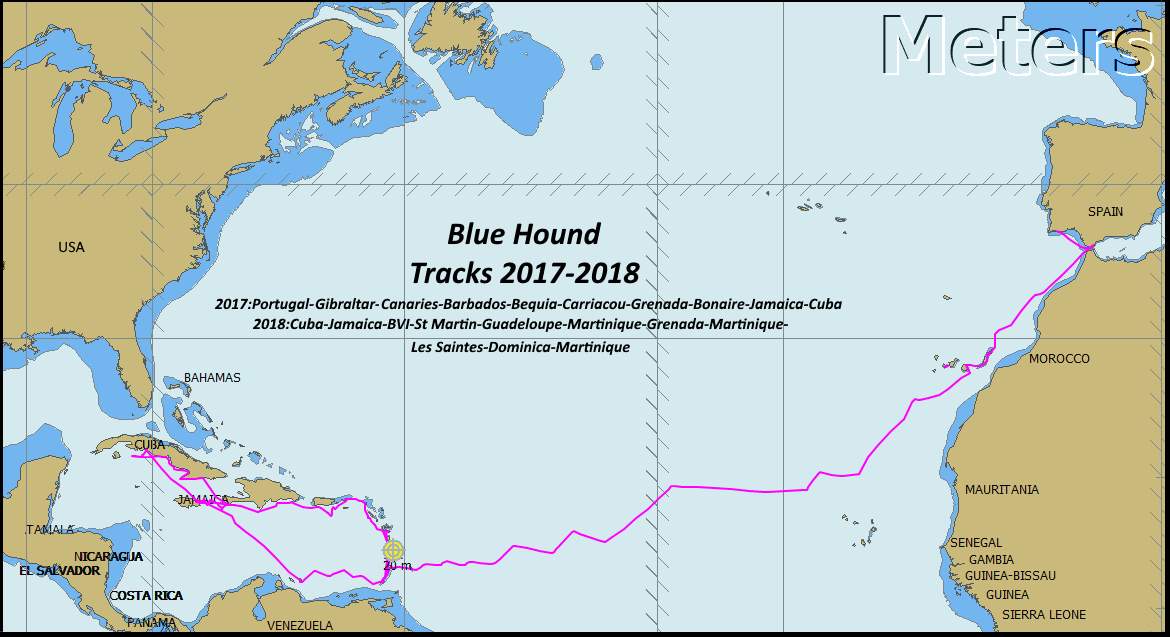 Our new Hydrovane in action - 3000 mls no problem
We had a fishing net around the main rudder for 1173 miles, but the hydrovane's independent rudder served us well, until the net fell off during a gybe. The seas were too big to allow us safely to cut the net off.
2016 - a Busy Year
Still getting the miles in with 2,722 miles logged and several new experiences plus a grand tour of the Canary Islands - except el Hierro (we'll get there some day)!